#01 Our fate: 'Suzuka 8hours'
掲載日/2010年07月14日

【Suzuka 8hours Endurance Challenge Blog】

Text & Photo / Masanao NITTA (Tras) Japanese >>

Go for it 'Team Tras'!
In 2008 the Tras team challenged successfully the Motegi 7h Endurance race with the HP2 Sport. In 2009 the team faced a new challenge: The Motegi Race with the HP2 Megamoto. While ranking 1st for a while an engine trouble forced the team to retire from the race. Then in 2010 the Tras team has returned to the Suzuka 8h Endurance Race, where they fought many past challenges with BMW motorcycles.
Challenging the Suzuka 8hours as a production professional!
Dreaming of becoming a works team motorcycle rider as a child, I had to face my poor reflexes and feeble physical strength. The dream quickly crumbled. But not all hope was lost. I was blessed with manual skills. I therefore reconfigured my goal and decided to one day build works team machines used in races. There were some twists and turns, but finally the dream came true.
One day I was asked to repair carbon parts of a German endurance race machine. This enquiry was made by Noboru Muto, who was participating in endurance races with a BMW R1100S. Once the repair was done the following conversation ensued.
Muto:"Nitta-san. Are you interested in the Suzuka 8hours race?"
Nitta:"Well, I am involved with it due to my line of work."
Muto:"Not in that way. I mean, how about we challenge the Suzuka 8hours together?"
Nitta:"What?"
In 2002, one year after this conversation, Muto and I entered Suzuka 8hours with the Tras version of the R1100S. Our team name: Boxer Sports Club.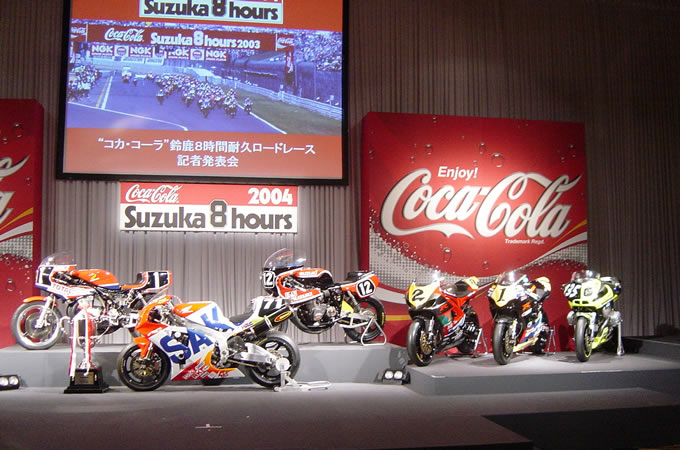 In 2004 we were invited to participate in the Suzuka 8hours presentation at a Tokyo hotel. The Tras R1200S was on show as a special. Did the Flat Twin have an impact on stage?
While it may not be widely known, we actually continued to challenge the Suzuka race from 2002 to 2006 with a BMW machine. In 2006 our Tras designed K1200R challenged the race successfully as winner of its class. Due to regulation changes after that, BMW was no longer able to race the Suzuka 8hours Endurance Race.
Again not all hope was lost! BMW announced that it would sell the WSBK championship bike as a standard version called S1000RR. On April 4th the rider Toda participated in a Japanese road race in Tsukuba. Muto was excited to watch the race.
Muto:"Nitta-san, let's participate in Suzuka! Prepare a bike!"
Nitta:"Alright!?"
Ready or not, here we came. But time was very short!
During that time of destiny I was not even in Japan, but in Germany to interview the Director of Motorsports at BMW Motorrad Berthold Hauser. I also visited 'alpha racing', the home base of the S1000RR works team. It really did feel like destiny!!!
Soon thereafter our entry into the 'Coca Cola Zero 2010 Suzuka 8hours Endurance Road Race' was confirmed. The Team name: 'Tras & G-Tribe + BSC'. The riders were to be Takashi Toda, Hayato Takada and Eiji Saito.
So! No time left! Will we be able to ready the bike on time…!?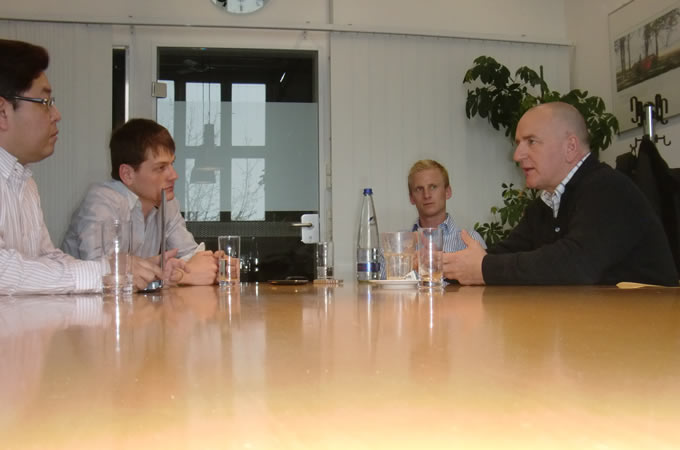 While team director Muto was gathering the team members in Japan, Greg and I were interviewing BMW Motorrad Motorsport Director Berthold Hauser at the BMW Classic Museum. Please check out the article in the BMW Bikes Vol.51.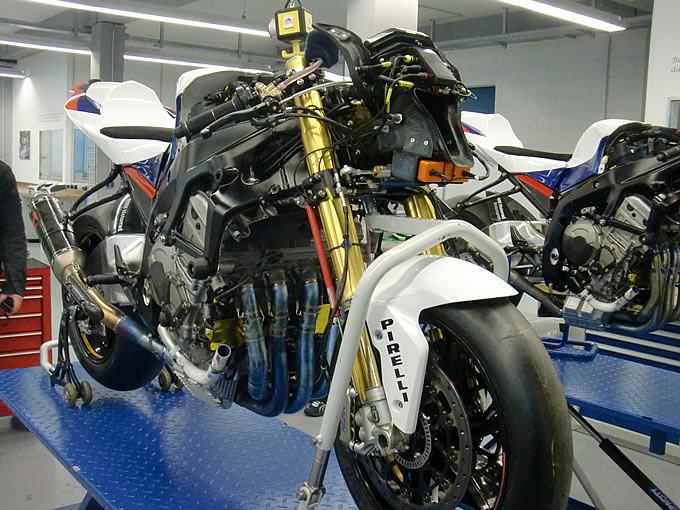 Checking out Troy Corsers stripped down works machine. I could feel the destiny!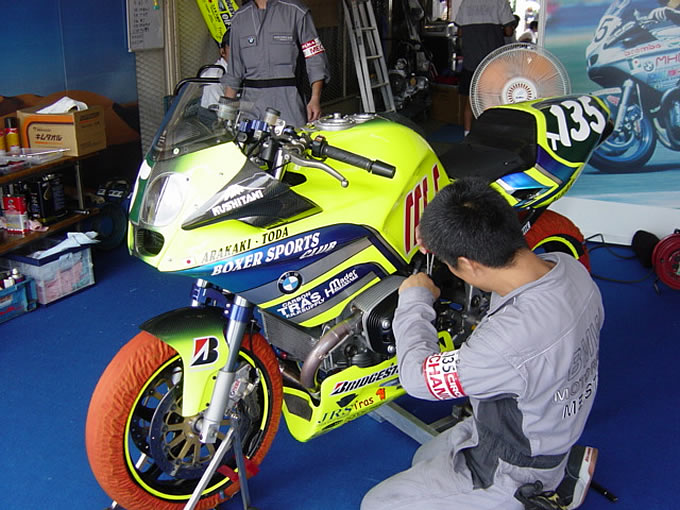 Impression of the Pit at the Suzuka Endurance Race in 2002. For me the starting line. Terashima from Yanase Auto doing maintenance on the bike.
This is 8tai! The pit walk, where you get a glimpse of beautiful machines and the race queens…? Or is it the beautiful race queens, who let the race machines shine?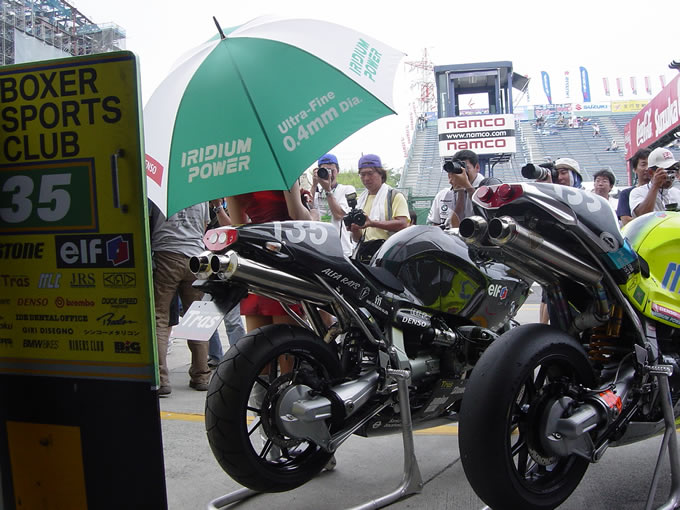 View of the pit walk in 2004 as only possible from within the pit. On exhibit: The all carbon finished machine.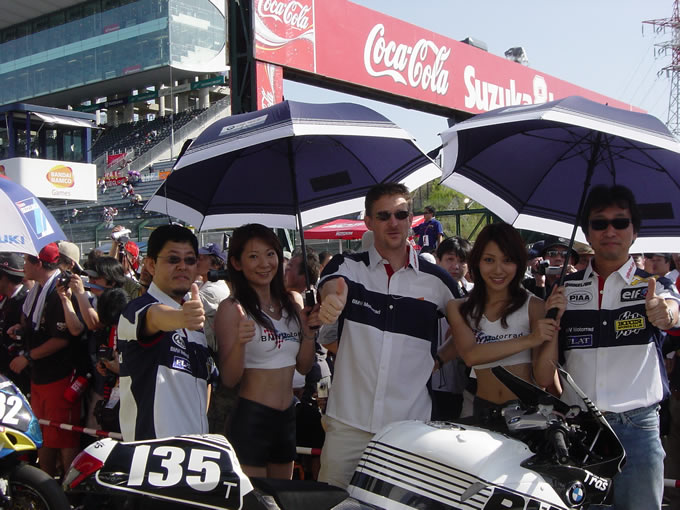 Suzuka 2006: l.t.r.: Boxer Sports Club representative Takagi, Director of BMW Motorrad Japan Heiner Faust and myself. All shining and bright weather made us wear sunglasses.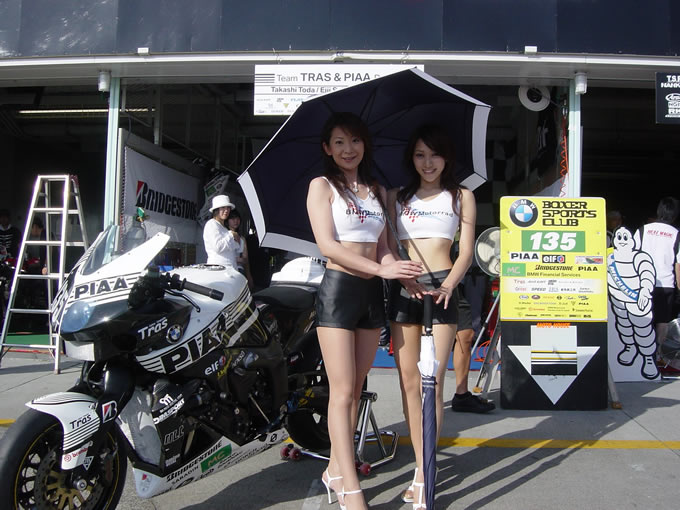 Achieving success with a standard radiator on the machine? The potential of BMW is astonishing! At this years pit walk we will display our S1000RR. Please come check it out on the 25th of June at Suzuka 8hours!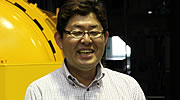 Challenger
Masanao Nitta
President of Tras Masanao Nitta develops, designs and sells prepreg carbon parts. He guides his group of Carbon Shokunin with an always-playful heart and is always ready for new challenges. Getting the best out of the carbon 'material of dreams', Tras develops high quality parts at world-class level. As a BMW owner himself he rides a R100 Roadster, R1200RT and a HP2 Megamoto (Motegi Version). As part of new challenges and to improve its technical capabilities, Tras continues to challenge races like the Suzuka 8hours in 2006 and Motegi 7hours in 2008. Every year Tras not only develops new cowl parts for racing bikes, but also challenges new value adding projects.